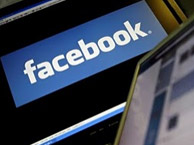 The largest social network Facebook has more than 500 million users. World experts consider it to be the greatest break-through in the history and development of the Internet. A great deal of active users write, copy, share, advice, worry, vote, choose and buy. Having even a small page on Facebook of your company or goods will attract attention to an unlimited number of fans. Instead of spending money on creating complicated sites to communicate with users you can get an effective mechanism for communication with your regular clients and visitors. Several clicks and you can invite them to your actions, tell news, make an offer and communicate actively.
In addition you'll get the chance to establish relations with each and every client. According to their interests you will be able to make your best offers and recommendations.
The effect of so-called word-of-mouth is the strongest point of using Facebook.
Here is a simple and 100% real example.
A visitor of your current site is interested in your services or goods. The Facebook support integrated into your site will make it possible for him to click the button "Like!" and leave a comment at will.
If the visitor is already one of 500 million users of Facebook, then all his Facebook friends will know about it. There can be up to 5000 friends on Facebook (maximum amount of Facebook friends -5000, according to statistics an average number – about 100 people).
A click and your goods are recommended to a huge number of potential clients. But for all that such form of advertisement is not considered as spam because people get it not directly from you or your company but from each other.
By adding a link to your company site on your Facebook page you offer every visitor to vote for the page and join it. You will see each fan and the news published on your Facebook page will be available for all your fans at once.
The largest world brands such as Disney and Nike have been using Facebook for establishing close relations with their fans and clients all over the world for a long time!
We are pleased to offer you our services in the following fields:
Facebook social services integration into your site no matter when, where or by whom it was created
Creating of your presentation page on Facebook
Getting a direct Facebook address, e.g. http://www.facebook.com/SpiceGarden.ru/
or http://www.facebook.com/filedownloader
Creating of extended page on Facebook with the feedback forms, voting, forums, etc.
Creating of a mini shop on the basis of your current Internet-shop (connection with almost every shop you collaborate with)
If you need further information, please contact us.
Don't forget to join Facebook and vote for our company HARIZMA. Just visit our Facebook page and click the button "Like!"